Since its first release on June 2014, Material Design has got pretty good attention from developers around the world. It's not just beautiful, feel more comfortable and clean, Material Design also designed for all kind majority of today's devices. From the smallest screen to the largest one.
Even tough Material Design has been around for almost a year, its popularity is not getting washy. More apps, websites and even frameworks are created to implement Material design principles. If you are going to build your own material design apps or websites, we're giving you our best pick of Websites and Android Apps that implement Material Design for your inspiration in this post. Checkout!
Top 20 Best Material Design Apps and Websites
1. Asana for Android
Asana, the popular task-management startup, has finally unveiled their newest Android native app. This new Asana mobile app is featured with the beautiful Material Design. Unlike the previous dreadful app which use HTML5, this time they come with a native app making it faster, more intuitive and more powerful. Asana for Android keeps you updated with your project tasks whenever you are
2. Rain Drop
RainDrop.io makes everything easy when it comes to bookmarking. It lets you easily save, organize and sync your bookmarks accross devices. This is one of the best Material Design app and is easy to use. Whether they are contents, articles, videos, photos or presentations, you can save them in thematic collection and share hem with your firend.
3. Morning Routine
Tired with the default alarm of your smartphone that makes you keep waking late? This Morning Routine Android app knows how tempting just a few more minutes can be. So they make an app that is hard to be snoozed. The sweet touch from Material Design makes the design and transitions more beautiful, playful and delightful.
4. Action Launcher 3
With the coming update of Android version, Action Launcher also updated its whole design with Material Design principles. The new Action Launcher 3 comes with Quick feature like Quick theme, Quick drawer and Quick page. If you are new to Action Launcher, another great thing this app launcher has is its layout integration. So you can import your existing layout from Apex, Nova, Google Launcher, Sense, TouchWiz and the stock Android launcher.
5. Between
Between is a private Android app for a couple. It has an exclusive, secure communication channel for just the two of them to share and store their memories. Between has what most couple want with their private app such as chat, moments, weather updates and shared calendar features. And yes, it's Material Design app.
6. Reddit News
Reddit, the front page of internet, had beautified its Android version with Google's new Material Design language. This update brings Reddit interface more beautiful and intuitive. The delightful animation makes the user experience more enhanced. Not just that, Reddit also enables the comments to be easily composed with real time preview, pictures, YouTube videos, gifs and imgur's new gifv format can be viewed inline and more.
7. Root Check
Do you know whether your Android has been rooted or not? This app will help you know that. This free Android app is very awesome with its clean and simple Material interface. Besides 100% free it also has no any ads. And that is just the kind of app you'll love. Root Check does not just help you check your root status, it also list the most popular root apps on Google Play and provides you nice information all you need to know about root.
8. S Converter
Need an all in one converter? S Converter is the right tool for you. It provides you iwth most common unit converter available, like area, acceleration, currency, digital storage, length, mass and more. All you need is just type your unit value, and S Converter will instantly convert it for you. And the best part is it's completely free without any in-app purchases.
9. Textra
Textra is an app that able to, you know, send messages. It makes your daily sending message to be prettier than your default Android stock. With its 3,5MB only, there are ton of extra features you can get. It has 800+ emoji icon, dark mode, floating Lollipop notifications, scheduled SMS/MMS, quick reply pop up and a lot more. The Material Design look makes Textra more fluid, intuitive and delightful!
10. TuneIn Radio
TuneIn Radio is a radio streaming service with over 100,000 live real radio stations from around the world. You can hear your best sports, news, music and talk radio. TuneIn offers a complete solution to listen an exclusive 24/7 radio with music genres from Hip Hop to Top 40 Pop to Alternative Rock. The Material look and feel will make you easy when using the app. And best of all, it's free to use.
11. WordPress for Android
WordPress, the most popular blogging platform, has finally update their Android version with Google's Material Design. With WordPress for Android, you can write, edit and publish posts right in your hand. Whether you are using WordPress.com or self-hosted WordPress site, both are supported with this app. And it's open source, so yo may see what's inside.
12. Journal
Journal, one of best journal writing app, had just arrived with the new Material Design. It's a rich features journal app which offers tons of function like text editor, photo gallery, calendar sync and atlas. It syncs with Google Drive and also automatically traces your location, motion, temperature, weather and music activities. And like any other journal writer, it's able to lock your data with password.
13. Unclouded
If you are often to work with cloud storages, Unclouded is the right app for you. It supports Dropbox, Google Drive, Box and OneDrive. This app is able to analyze your cloud storages to see the last modified file and how much bytes you've spent. One of features I like most is the duplicate finder feature, so I can clean up some space.
14. Social Addicts
Social Addicts lets you monitor your daily social usage. It is able to track most popular social media application like Facebook, Twitter, BBM, Whatsapp, Instagram, Google Plus, Tumblr and Ask.fm. You may also choose which services you want to use only. It also support for almost all Android version from Gingerbread to the newest Lollipop. And yes, it's Material designed. Visit this page to see the source code.
15 . Life Awesome
Have you accomplished something awesome in your life? Just share your great moments with lifeaweso.me. Its goal is to make peoples lifetime achievements to remembered all the time. It has a timeline board for your life activities, goals, and history like travels, sports, jobs, projects, etc. For now, it's not launched yet. Just follow their Twitter to get updated when it's launched.
16. Whatsapp for Web
Whatsapp is one of most popular cross-platform mobile messaging app. And it's now come into the web with Material look. To use Whatsapp for Web, simply openweb.whatsapp.com and scan the barcode with your Whatsapp. Whatsapp for Web brings you a new experience of using Whatsapp. Unfortunately, it only supports Chrome for now.
17. Evil Rabbit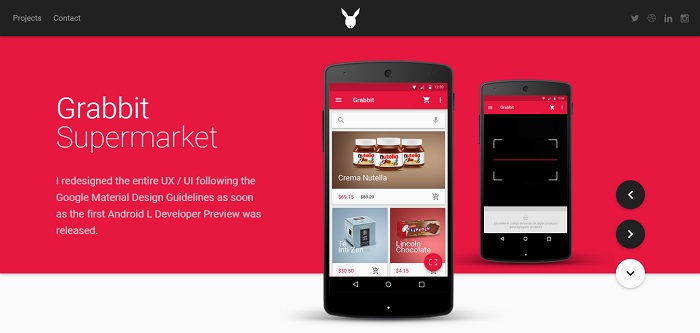 Evil Rabbit is a personal website portfolio. He is a UX/UI Designer from BA, Argentina and one of @auth0 designer. His single-page portfolio website is very beautiful, clean and intuitive. All the animations, colors and layout are perfectly touched and designed.
18. Apk Mirror
APK Mirror is a website for getting Android apps APK file. It provides you with many Android apps and always get updated with the latest version. You can also submit your own APK file by clicking the cricle fab (floating action button). Brought by AndroidPolice.com, APK Mirror is designed as simple as possible with Material Design in mind.
19. Joel Cox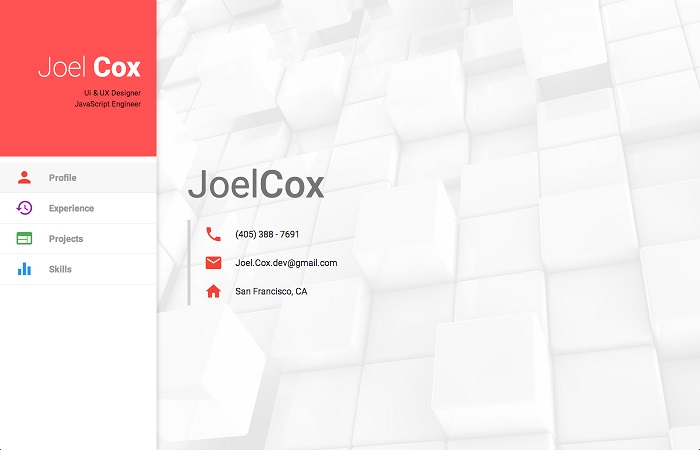 Joel Cox is a UI & UX Designer from San Fransisco. He is a very experienced, skillful Javascript Engineer with well education. Recently, he had made a very wonderful portfolio site developed with Materialize frameworks. The first time you open his site, you'll know that it's going to be more amazing inside. The color, layout, animation and typography are well designed. Even I want a site like that.
19. Inbox for Web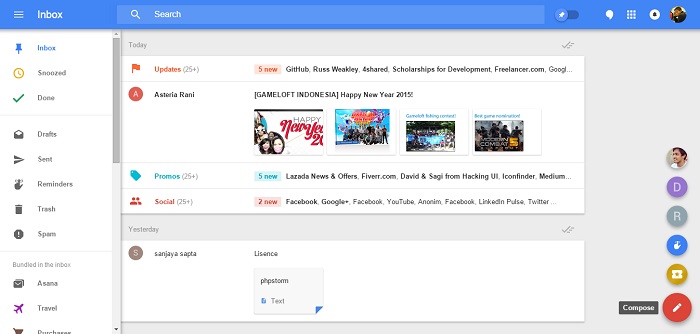 Inbox is a very smart Android and iOs email application from Google. Inbox comes in web version as well, but currently only support Chrome browser. Inbox lets you bundle and highlight your email so they can be well-organized and easy to search. You can also add some todos with reminders feature. It's an invite only app. So to use Inbox, you must have an invitation on your email.
Those are just Top 19 Best Material Design Apps and Websites we can grab for you. There are still many apps and websites that implement Material Design out there. So, are you ready with Material Design? If you have created some Material apps or websites, or just want to add some suggestion to our list, please let us know by commenting on the comment box below.